There's something timeless and classically beautiful about cream and gold paired together.  It always manages to look heavenly, with a touch of sparkle to make you stand out–and it seems like this neutral color combination flatters just about everyone.  Paired with nude or metallic pumps or strappy heels, it's a great option to wear to semi-formal events and cocktail parties.  Cream and gold is also a great option for brides to wear to pre-wedding festivities such as a rehearsal dinner.  Lily Boutique has some of the most stunning cream and gold dresses and tops for you to choose from. Here are some of our favorites: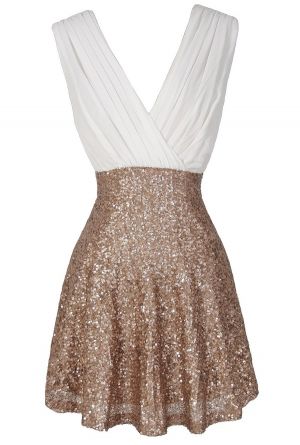 The Flash of Light Chiffon and Sequin Dress in Ivory/Gold is fun, festive, and flashy–and it retails for just $45.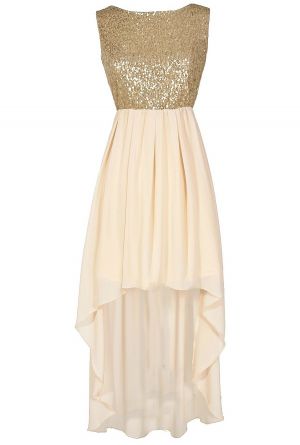 The Gilded Angel Gold and Ivory Sequin Chiffon High Low Dress is a dramatic look that will get you noticed. It retails for $54.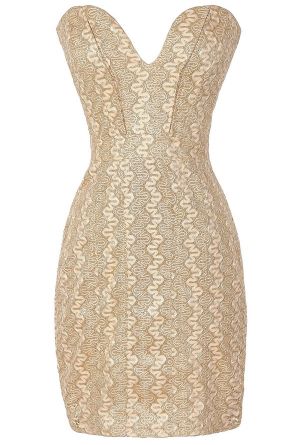 Looking for something a little more sexy?  This fitted gold and cream dress is perfect for a night out with friends.  It sells for $50 here.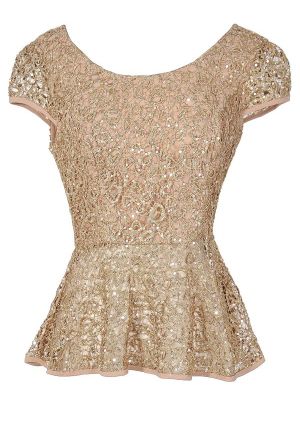 Maybe you'd prefer a gold top instead of a dress?  The Gold Rush Web Lace Sequin Designer Top will look just as stylish and elegant as your favorite dress. Try pairing it with black skinnies and heels.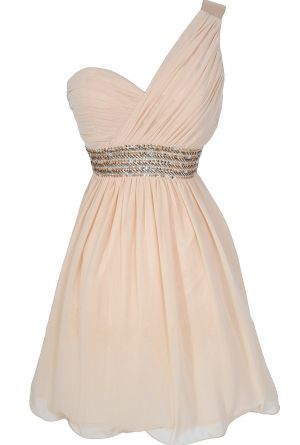 This stunningly beautiful designer dress will have everyone asking where you found it!  We love the pleated chiffon and one shoulder detail of the One Shoulder Embellished Chiffon Designer Dress, that retails for $85.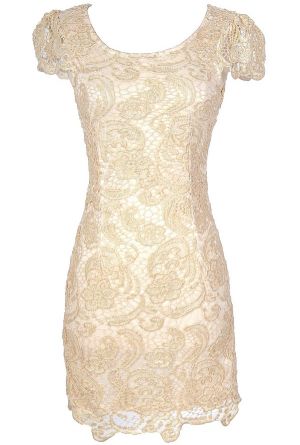 The Nila Crochet Lace Capsleeve Pencil Dress in Beige Shimmer has an antique, vintage-inspired look to it.  Try pairing this dress with nude pumps and some delicate gold jewelry.
You'll be prettier than a present in the Cream and Gold Sequin Bow Chiffon Designer Dress. This dress retails for $70 and is also available in a Navy/Silver version here.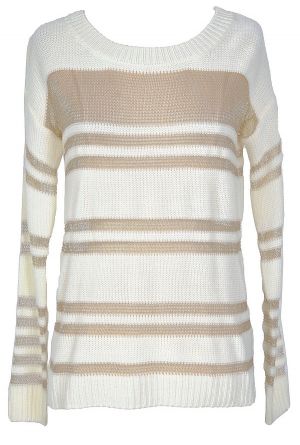 For a more casual laid-back look with a touch of sparkle, consider the Gold and Ivory Metallic Stripe Sparkle Sweater for just $34.  This sweater looks cute worn over a fitted ivory tank worn with denim and flats.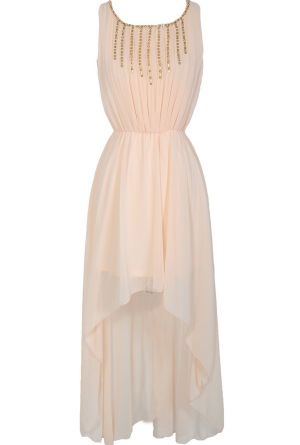 The best part of this ethereal high low dress has to be the tiny gold beads at the bust that remind us of rocks.  The Rock Candy Chiffon High Low Dress is angelic and sweet–with a bit of rock star edge.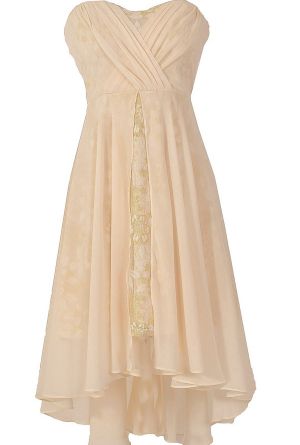 The Midsummer Night's Dream Chiffon and Lace Designer Dress is truly stunning. This dress would be perfect for a bride to wear to a rehearsal dinner.
The Antique Bronze Embellished Dress in Ivory features bronze beads and miniature sequins that decorate the bust.  This dress has a laid-back boho-chic look with a bit of shine, and it comes in two color options at Lily Boutique.  It retails for $45.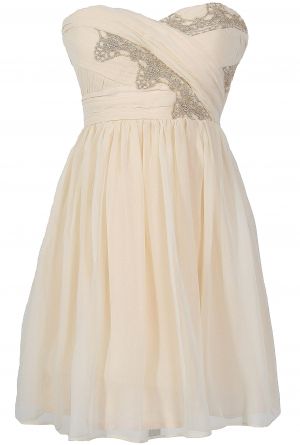 We love the awesome gilded gold lace that trims the bust of this cream chiffon dress.  The Golden Age Ivory Chiffon Designer Dress retails for $62.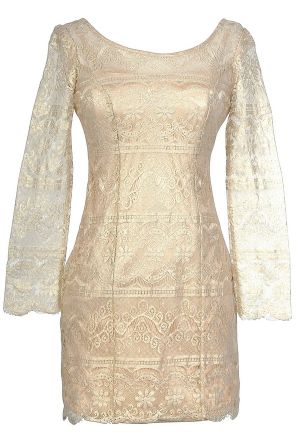 The Golden Wishes Lace Overlay Designer Dress manages to look sexy and sweet at the same time–without showing too much skin.  This dress has a vintage-inspired feel reminiscent of the Roaring 20s.  It retails for $75.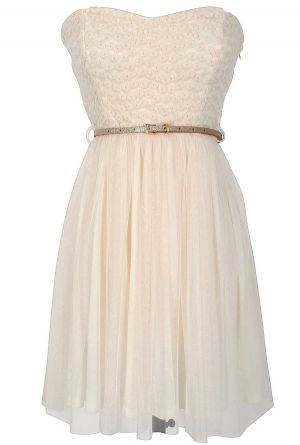 This dress is mostly cream, but the sparkly gold belt around the waist adds a touch of shine.  The Boho Glam Dress retails for $42 and comes in three color options.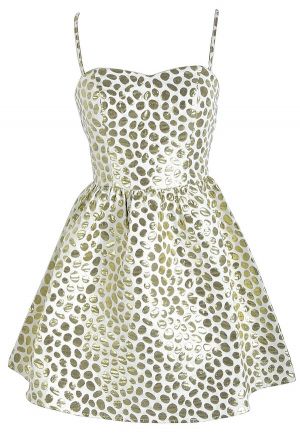 The Structured Gold and Ivory Metallic Dot Designer Dress proves that gold and cream can be fun and whimsical too!  We love the great structured skirt and textured dot fabric of this dress that retails for $56.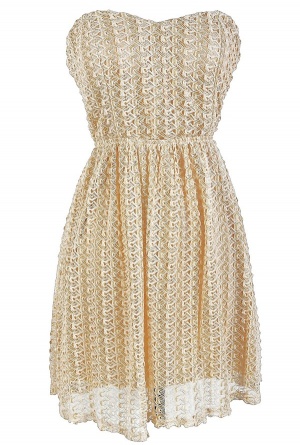 The Cream and Gold Lace Bow Back Strapless Dress is made of an awesome sparkly cream and gold lace fabric.  It has a gathered fabric detail in the back that resembles a bow.  This dress is perfect for any party or semi-formal event.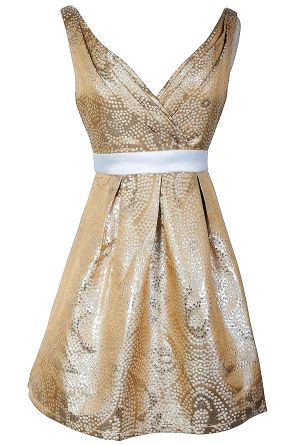 The Cream and Gold Metallic Dot Print Designer Party Dress features a gold background with an ivory dot print throughout.  We also love the unique detailing at the bust. This dress retails for $70 here.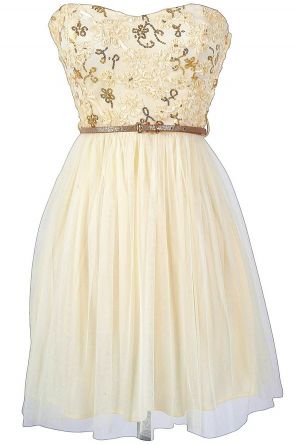 The Ivory and Gold Sequin and Tulle Belted Dress features a gold and cream sequin and embroidery design at the bust.  An included gold sparkly belt completes this adorable dress.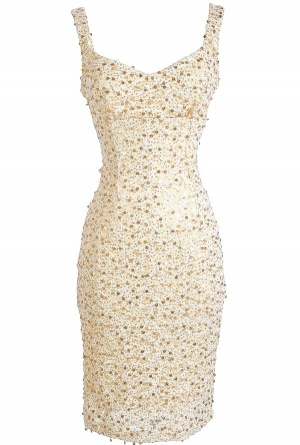 This cream and gold sequin dress is reminiscent of Marilyn Monroe, with its sexy, curve-hugging fit.  The All That Shimmers Cream and Gold Paillette  Dress is perfect for a cocktail party and is a steal at just $44.
Check out Lily Boutique, lilyboutique, for all of these styles and more.  We have something for everyone and at every budget!