Whether you're spending Valentine's Day with a special guy or a group of girlfriends, it's always a good excuse to don a romantic, girly outfit. Lily Boutique has a ton of party dresses and tops in shades of red, wine, and pink that will have you looking flawless no matter what your plans are. Whether you're going out to dinner, to a nightclub with friends, having a romantic night in, or attending a Valentine's party or school dance, you'll have no trouble creating the perfect outfit! Here's a rundown of some of our favorites:
Delicate lace dresses in romantic shades of blush will make everyone fall in love with your style. Any of these lace and chiffon dresses would be perfect to wear out to dinner. Prices range from $35 to $72 and are available at lilyboutique:

From left: Vintage-Inspired Lace Overlay Dress in Blush, $42 ; Among The Wildflowers Crochet Lace Dress in Blush, $72 ; Like The Wind Dress in Blush, $68 ; Lined In Lace Strapless Chiffon Dress in Pink, $35 ; Sweetheart Strapless Dress in Blush, $48
Have an upcoming Valentine's party or school dance to attend? Consider one of these unique chiffon party dresses from Lily Boutique. Whether you're into bold sequins and shine or prefer something more delicate, any of these dresses will stand out in the crowd: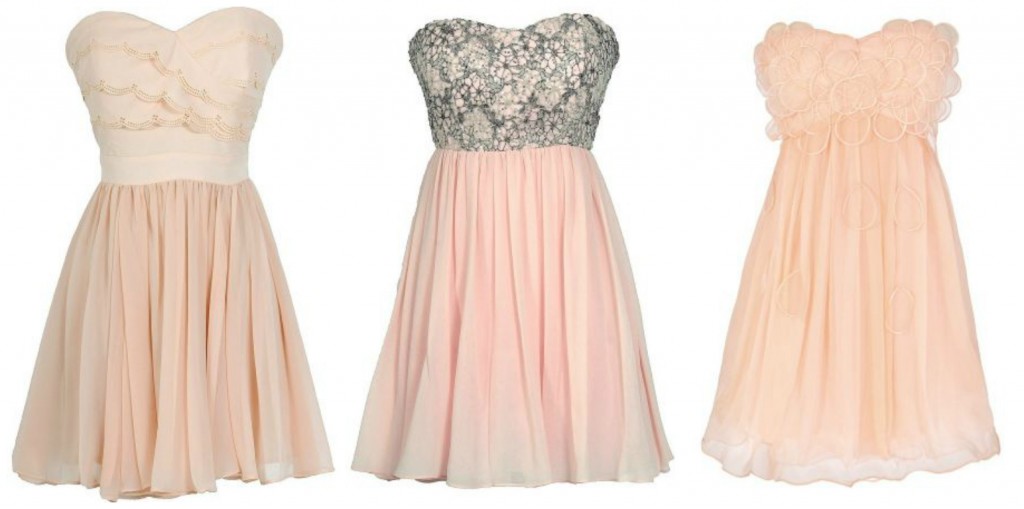 From left: Love Song Tiered Lasercut Strapless Chiffon Designer Dress in Blush, $72 ; Stars In The Sky Lace Overlay Designer Dress By Minuet In Pink, $72 ; Raindrops On Roses Chiffon Designer Dress In Peach By Minuet, $70
Needing something a little more formal for your event? Try a blush-hued chiffon high low or maxi length dress. Embellished details, ruffles, and romantic silhouettes make each of these dresses a winner: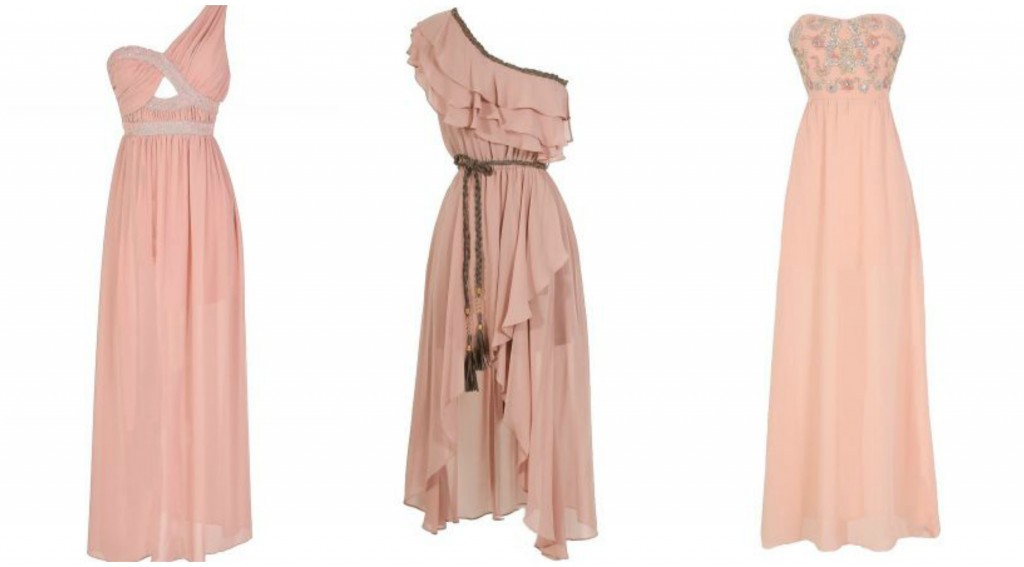 From left: Aphrodite Sequin and Chiffon Maxi Dress in Pink, $48 ; Enchanted Forest One Shoulder Chiffon Dress in Blush, $60 ; Twinkling Rose Embellished Pink Maxi Dress, $72
Don't have a date for Valentine's Day?  No problem! Grab a group of girlfriends and a flirty, fitted dress and get ready to hit the town.  These sleek and chic little dresses are perfect for a night of dancing:

From left: Winding Vine One Shoulder Applique Dress, $40 ; Pink and Beige Textured Colorblock Dress by Ark and Co, $45 ; Gold Stud Embellished Sheath Dress in Pink, $56 ; That's A Wrap Bodycon Pencil Dress in Pink, $35 ; Pink Lady Strapless Peplum Dress, $48
Don't let a low-key casual Valentine's Day keep you from looking cute and romantic.  Pair a pale pink top with denim and heels or flats for an easy way to add a festive touch to your style: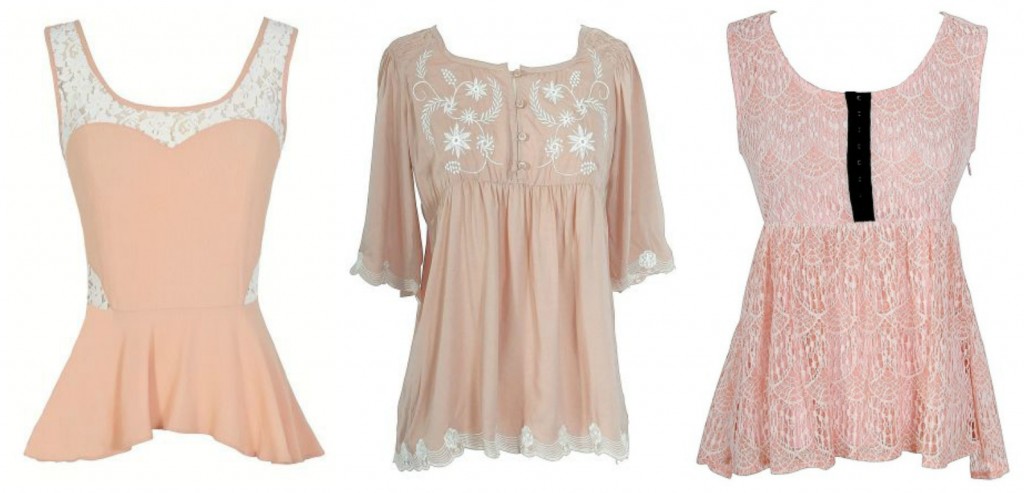 From left: Lace Trim Peplum Top in Pink/Ivory, $38 ; Embroidered Button Front Blouse In Dusty Rose, $36 ; Lydia Lace Babydoll Top in Pink, $30
If spending the night at home with your guy cooking, watching movies, and hanging out in sweats sounds like your idea of a cozy, romantic evening, toss on these adorable cropped pink sweats with a fitted ivory tee. You'll look effortlessly cute without even trying, and at just $20 you can't go wrong: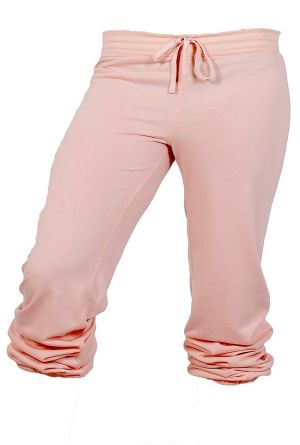 Comfy Scrunch Sweats in Baby Pink, $20
Maybe you'd like to add a Valentine's touch to your workwear style.  Take a cue from Legally Blonde's Elle Woods and think pink!  As long as you work in a creative environment and stick with a work-appropriate silhouette, you'll be able to look professional and pretty in pink on February 14.  These Lily Boutique dresses are great options for a networking event or drinks with a client after work: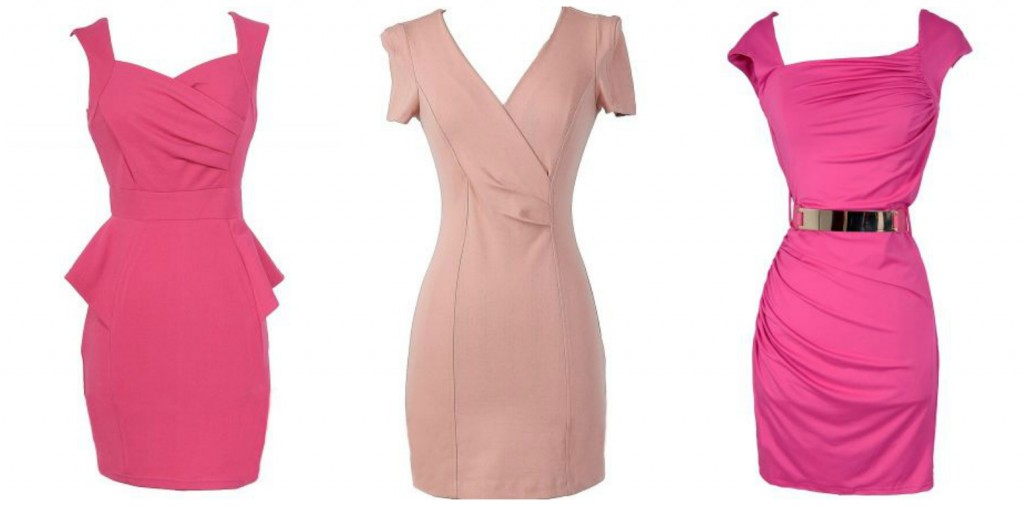 From left: Network The Room Matelasse Peplum Dress in Hot Pink, $35 ; Crossing Over Sheath Dress In Blush, $52 ; Elle Woods Belted Pink Bodycon Dress, $40
If pink isn't your thing, no need to worry!  A bold red dress is the perfect way to make an impact this Valentine's Day.  From bright reds to deep shades of wine, there's something at Lily Boutique to suit everyone:

From left: Tulip Garden Strapless Belted Dress in Black/Wine, $38 ; Maricela Shimmer Contrast High Low Dress in Magenta, $38 ; Annabelle Strapless Chiffon Designer Dress in Red, $68 ; Dress To Impress Strapless Chiffon Dress in Wine Red, $43 ; Gypsy Crochet Lace Dress in Red Wine, $32
Lace always manages to look sweet and romantic.  These fitted, curve-hugging dresses in sultry shades of wine are a perfect date-night look with a bit of mystery: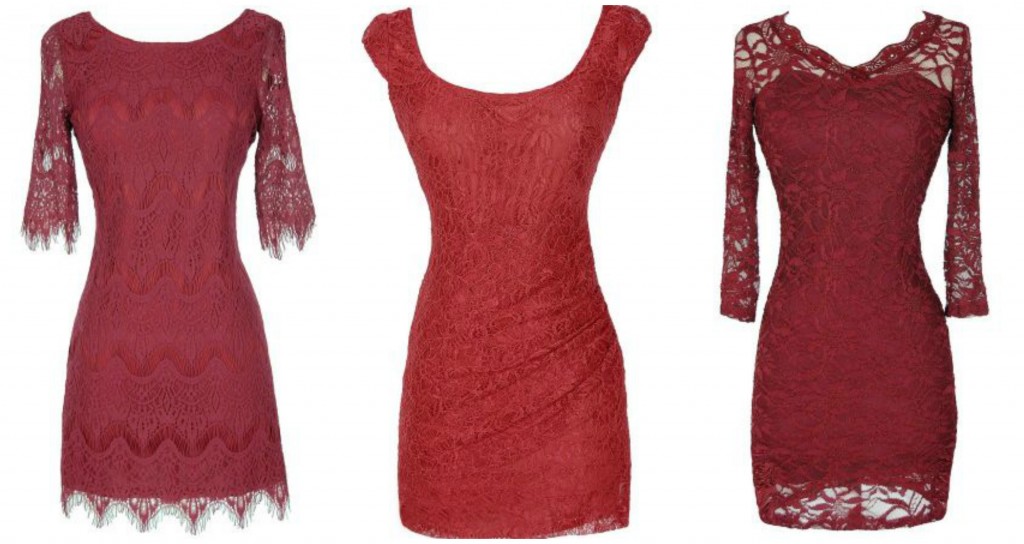 From left: Vintage-Inspired Lace Overlay Dress in Wine, $42 ; Morning Mist Lace Bodycon Dress in Red, $42 ; Open Back Fitted Lace Dress With Three Quarter Sleeves In Wine Red, $40
Sequins, rhinestones, and embellishments make these the perfect party dresses to wear to a Valentine's Day dance or cocktail party. Strappy heels or pumps and a clutch are all you need to look put-together and stylish:

From left: Go For Gold Sequin and Chiffon Dress in Berry, $42 ; Rose Gold Floral Sequin Dress, $72 ; One Shoulder Embellished Chiffon Designer Dress in Red, $85 ; Black Tie Optional Strapless Embellished Designer Dress in Red, $68 ; Trail of Stars Embellished Pleated Chiffon Party Dress in Red, $54
For a festive look to wear to work on Valentine's Day, try a bold, chic pencil dress from Lily Boutique.  Everyone in the office will admire your ability to look polished and professional while channeling Cupid: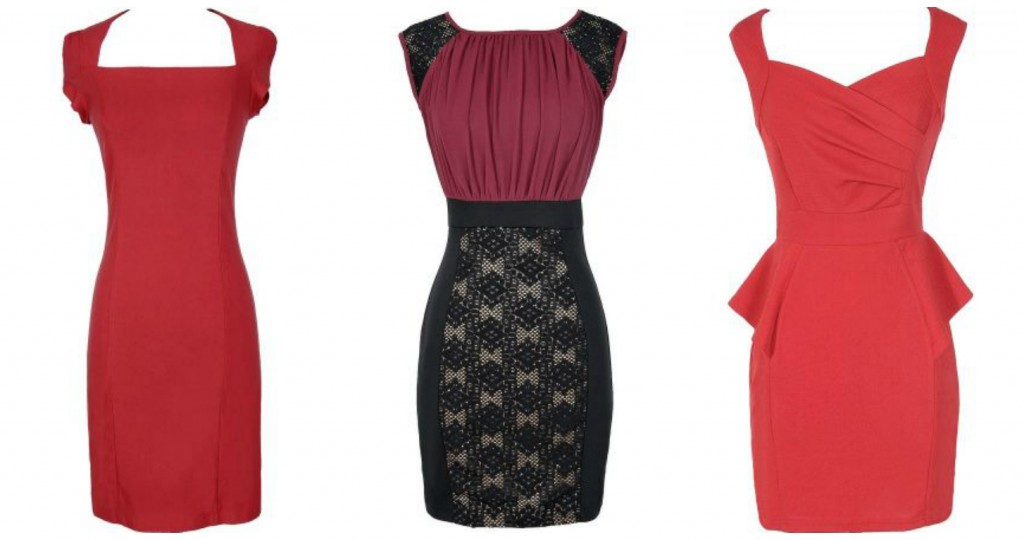 From left: Square Neck Modest Pencil Dress in Red, $36 ; Pencil Me In Chiffon and Lace Pencil Dress in Burgundy, $40 ; Network The Room Matelasse Peplum Dress in Red, $35
And last but not least, toss on a red hooded jacket to keep you warm and cozy!  Isn't it amazing how a brightly colored jacket can instantly add cheer on dreary winter days?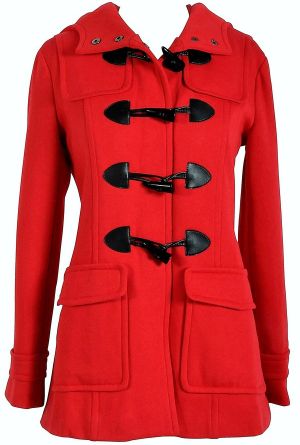 What do you think about these looks?  Do you have a favorite? Let us know in the comments!