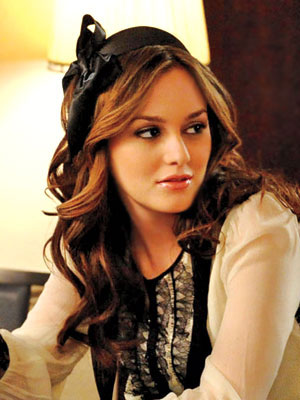 When we think of celebrity fashion, we not only think of actors and actresses, but the roles they portray on TV or film as well – especially if the character has made a significant impact in the fashion industry. Who doesn't love Manhattan's prettiest mean girl, the Queen "B" – Blair Waldorf?! Blair is a well-loved fictional character from the hit TV series, Gossip Girl; and just like a true modern fashion icon, actress Leighton Meester's character in the show gives us some serious fashion inspiration. We all look forward to her sophisticated, preppy, tailored and polished style in every episode of the show.
Her sense of style reminds us of the 1950s and 1960s-era mod glam movement and she exudes the feminine, sophisticated and classy elegance of Audrey Hepburn. We rarely see her wearing pants, especially jeans – that's a huge no-no for the Queen "B"! The only problem is that following her sense of fashion may be too expensive for most people.
The beneficial aspect about Lily Boutique is you can obtain Blair Waldorf's style for so much less! Here are some of the Blair Waldorf-inspired dresses that you will absolutely fall in love with! Grab the Queen B's fashion style with these lovely dresses inspired by Gossip Girl's Miss Blair Waldorf: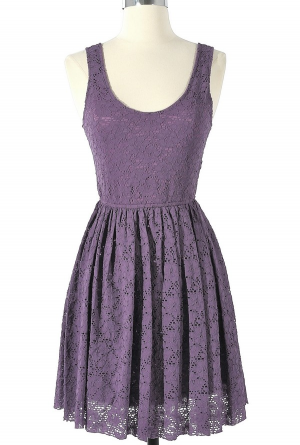 Lacy dresses and hosieries are some of the staples in Blair Waldorf's outfits. With that, we bring you our Delightful Days Lace Dress, a very flattering lace dress that exudes femininity and charm. This simple yet gorgeous purple dress is designed to flatter most body types. Why do we love this dress? It has a versatile look that you can dress up with stilettos, or dress down with more casual sandals.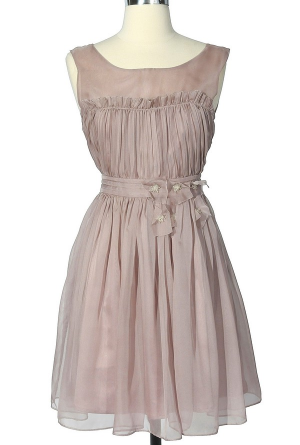 We've seen Blair Waldorf wearing lovely chiffon blouses and dresses and who wouldn't love our Garden Fairy Beaded Lilac Chiffon Designer Dress by Minuet? The dress is made with a luxurious-looking chiffon fabric that flows beautifully as you move. The details of the dress include subtle ruffles and chiffon petals that add to the whimsical, dreamy look of this fabulous dress!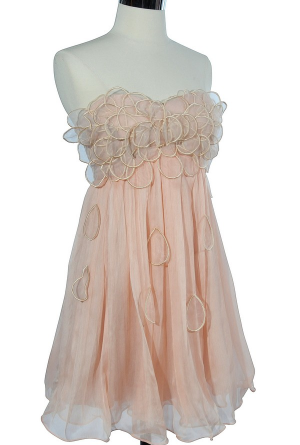 First impressions will definitely last with the Raindrops on Roses Chiffon Designer Dress by Minuet. Lily Boutique features dresses that are similar to Blair's dresses that flutter perfectly with her every movement, in colours like peach, champagne and beige that all compliment a variety of skin tones and colours.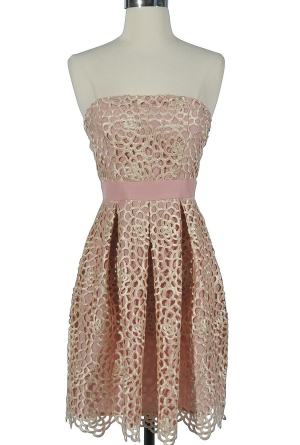 Another dress that screams "Manhattan's elite" is this sweet Honeycomb Lace Overlay Strapless Designer Dress by Minuet. It's one of those perfectly polished dresses that you will see Blair wearing at a cocktail party, and now anybody can look just as divine as she is in this dress!
Some other tips to achieve that celebrity style, Blair Waldorf look:
1) Dresses, skirts, tights, tailored jackets, designer trench coats and stockings are some of Blair's must-haves. She will never get caught dead in denim pants!
2) Headbands. You'll want to try different types of each and every kind of headbands if you're determined to achieve Blair Waldorf's style!
3) Matching purses, shoes and accessories. Blair loves cute, designer purses that blend well to her outfits and accessories, so you might want to experiment with those.
4) Natural and neutral, with pretty pink or rocking red lips. Blair never goes wild with makeup. Neat, natural, and sophisticated is always the theme of her makeup.
So check out our collections here at Lily Boutique for more celebrity style, worthy of gossip!